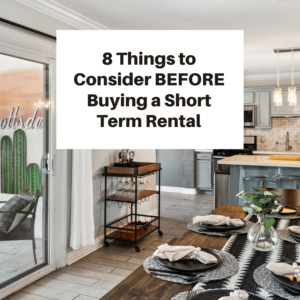 1.   Neighbors;
If your neighbors feel that your Short Term Rental is negatively impacting their lives they will complain and make your life difficult.
2.  HOAs; 
Most Homeowners Associations ban rentals for less than 30 days, even if they allow Shorter term rentals you will likely be fighting with them at some point.
3. Location;
While being close to the city is important, guests usually choose to book Short Term Rentals instead of hotels because they are looking for more privacy. The ideal location for a Short Term Rental is somewhere close to tourist areas while also offering privacy.
4. Weather;
Snow storms, hurricanes, tropical storms can all be reasons for canceled bookings and lost revenue. Areas with year round demand and favorable weather will usually outperform areas with dramatic seasons. That being said, some homes clear so much revenue in their "season" they can afford to be off the market for some of the year.
5. Labor Availability;
Your dream house in the countryside may be the perfect Short Term Rental but if you are unable to easily get there yourself, finding quality managers or cleaners can prove to be a challenge.
6. Laws;
Some cities and states have passed restrictive laws against Short Term Rentals. Even if they are legal now, if public sentiment changes anti- STR legislation could change the market. South Lake Tahoe is a great example of a city where Short Term Rentals have thrived since long before Airbnb was a thing and now have been banned.
7. Long Term Rental Rates;
If Short Term Rental is no longer feasible, will the property cash flow as a long term rental? This test is a very important indicator as to if a property is fairly valued.
8. Major Tourist or Business Events;
Major events such as the Masters in Augusta Georgia or the Super Bowl can drastically increase the annual return of a Short Term Rental. Some people rent homes as a "Mid Term Rental" month to month to be able to capitalize on renting their home for one week where demand and prices are off the charts.